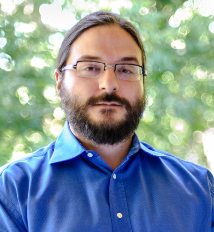 Informed Iteration was launched in the fall of 2018. It is the product of over a decade of lessons learned working with data to improve business results.
I'm JF Amprimoz, the owner and operator of Informed Iteration. I started my career working on SEO and content strategy for a large online publication, where I managed the creation of a portfolio generating over three million pageviews a month. I got an amazing amount of training and experience. To me, this was a fascinating intersection of technology, business, language, and math, so I absorbed everything I could.
In 2012, I started consulting and created Small Web Strategies. Over time, the "Web" lost its meaning, as we stopped thinking of the internet as something we go to, and accepted it as something that surrounds us. The "Small" just became a misnomer, as I was increasingly working with larger organizations.
I thought about the work I most enjoy doing, and my approach to it. Then, I designed a brand to represent the passion I have for using data to increase transparency and help organizations thrive.
I decided not to go the route of having an agency with employees I'd then have to keep busy. It lacks flexibility. I'd rather work with your in-house team and external agency. I also have a network of talented subcontractors I can trust to do awesome work if you need to fill a gap, or put together a team tailored just for your project.
Something else that is a bit unusual for the marketing space is – we often aren't pushing the "next big thing." A lot of the time, we aren't even pushing the "latest thing" yet.
I'd rather wait a little longer to follow a real trend than waste resources trying to get ahead of every fad.
Buzzwords make me suspicious. Disciplined approaches with measurable results make me happy.
If that kind of pragmatic approach sounds promising, I'd love to hear from you.
North American Service From Hamilton, Ontario
Informed Iteration serves clients anywhere in Canada and the United States,  as well as international clients wanting to target those markets online, and you can be billed in your preference of Canadian or American currency. It is a registered Ontario business located in hard-working Hamilton, Ontario.